Hey everybody! Welcome back to the Green Actors Guild. This week we are tapping into breakdowns. No, not mental breakdowns or character breakdowns (yet) but Audition Breakdowns! More specifically those EcoCast that come from Actors Access.
What is an Audition Breakdown?
What is an Audition Breakdown? Well, when a Casting Director releases a casting call and starts to request auditions, the production description is called a breakdown. It basically outlines all the required details needed for your audition and the essentials of the whole production.
What does an Audition Breakdown look like?
Below I have included an example of a recent Audition Breakdown I received from a Casting Director via AA (Actors Access). Let's dissect the points and their meanings.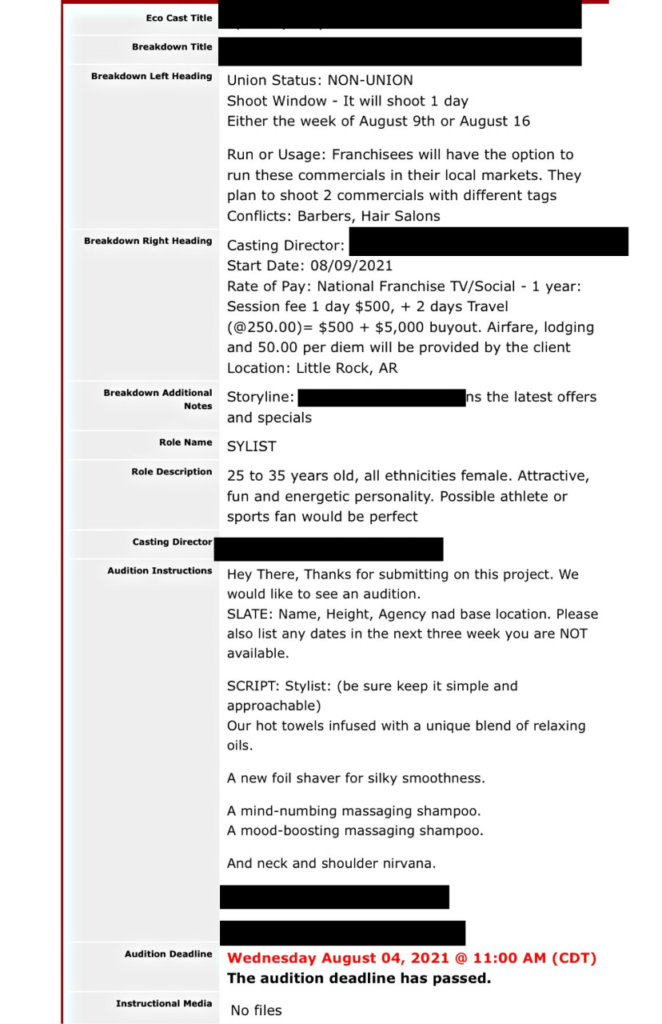 Eco Cast Title: Production Name:
The Casting Call title within Actors Access.
Breakdown Title:
What is the audition called. This can change at any point in pre-production.
Breakdown Left Heading:
Union Status -Union, Non-Union.
Shoot Window – How long production estimates to shoot & when the week will be to shot.
Run or Usage: How long this project will run within it's designated markets ( local, regional and/or national), and any conflicts associated
Breakdown Right Heading:
Casting Director – Who's encharge of finding talent for the production.
Start Date: When the project will start.
Rate of Pay: If it's a national or regional project. The pay rate for this specific character. Typically, a day rate. This also includes buyout. A buyout is what the production will pay for the rights to your footage, i.e no residuals.
Location: Where this production will film.
Additional Notes:
Typical logline or storyline, aka a short production summary.
Role Name:
The character title you are requested to act out
Role Description:
Age
Gender
Physical features – Tall, short, color hair desired, thin, heavy, athletic, etc.
Brief emotional detail of your character – brooding teenager, spunky best friend. This is a brief look into the character.
Casting Director:
Name of Casting company and/or Casting Director
Audition Instructions:
Normally Slate specifications are listed here. If you need a recap over proper slate instructions, recap our previous discussion here.
Small script hints are added in.
Lines can be input here, but in most cases, you will find Sides.
Presence on background and camera angles will be added.
Audition Deadline:
When the audition is due.
Instruction Detail:
Acting sides – or better known as the script for your audition.
Short but Sweet!
That's it for this week, pretty short yet pretty sweet. Audition Breakdowns are one of the most common things Actors will be sent, and knowing how to interrupt the long list of details is important for a talent's success.
Until next week Green Actors, get in a solid acting studio and start laying the foundation for your career!
See ya next time!