So it's part 2 of Headshots and Resumes. This week we are focusing on your credentials, your Professional Acting Resume. Well, what defines a great Resume for Actors? Let's break it down so you are up to date on industry standards!
What is a Resume for Actors?
Sounds like a silly question, but to me, there are no silly questions. Acting resumes are similar to Corporate Resumes, in the fact you identify Work History, Contact Details, and Training/Education. The difference is, you want to gear all these items listed towards Film Industry experiences. Before we move forward, my Resume Template can be found here, or under my Printables tab.
Also, everything I reference below can be seen in a Pictured Resume Template, at the bottom of this article. Now that we have the serious stuff out of the way, let's get back to Resume Breakdowns.
Acting Resume Breakdown.
Name and Occupation:
For starters, your Name should always be at the top, in large, bold letters, followed by your Occupation below.
Physical Details:
Below the "mini-headshot" you provided, (pictured below and to the upper left side of our template) add your Physical Details. Physical details need to include the following:
Height
Weight
Body Type: Silm, Average, Tall, and Athletic
Hair Color
Hair Length
Eye Color
Union Status:
Staying on the left-hand side of our template, and below physical details, you will mark your Union Status. Union Status simply means if you belong to any Unions within the industry. For example:
SAG Eligible – This means you are eligble to join the union, based on Union Criteria to join.
Non-Union
We will discuss the types of unions, and how to become eligible at a later date.
Interest & Skills:
In this specific section, you want to identify which specific Skills, and Interests, you have! Some great examples are singing, dancing, archery, karate, swimming, horseback riding, etc. This is a great place to note other languages you speak, but make sure you speak them fluently! The last thing you want is to say you speak German, only to embarrass yourself with gibberish.
Recent Work
Moving right along to the main event, your Recent Work History. Located on the right side of our template, this is where you showcase how experienced you are as an Actor (or whichever your specified talent is).
Here there are three major categories:
Film & Television
Commercial/Industrial
Theater
You want to ensure your most recent work is listed first and listed as follows:
Job Tile – Job Position/Role – Company Name (Production Compay and/or Director)
Based on the above standards, each line for Film & Television, Commercial/Industrial, and Theater, should read like this:
Kissing Booth – Supporting – Netflix.
Professional Training
Last but certainly not least, Professional Training. Under this block, you want to add any industry-level training, from College Education to private instruction. As a Green Actor, this is one of the MOST IMPORTANT blocks on your resume. It shows you are training and working on great techniques so you can perform as a Professional Actor. Even if you have zero on-camera experience, you can still book gigs and sign with Talent Agents based on how much training you obtain.
I have been in the industry for many years, and I STILL train regularly. By continuing your education through classes, you stay up to date on your craft and industry standards. Education does not stop just because you land a Union gig, this I can promise. You want to continue your character development even off the screen.
Enough lecturing, here is an example of formating for your Professional Training Block.
Course Name – Acting School – Instructor
So, your resume would read as follows:
College Degree:
BFA Acting – ASU – Jane Doe (I added the Dean of my College as my Instructor)
Acting Training:
On Camera – Page Parkes Talent – Addie Eckret
Below you will find an example of my Green Actors Guild Resume Template. Remember, you can find this template under the "Printables" tab.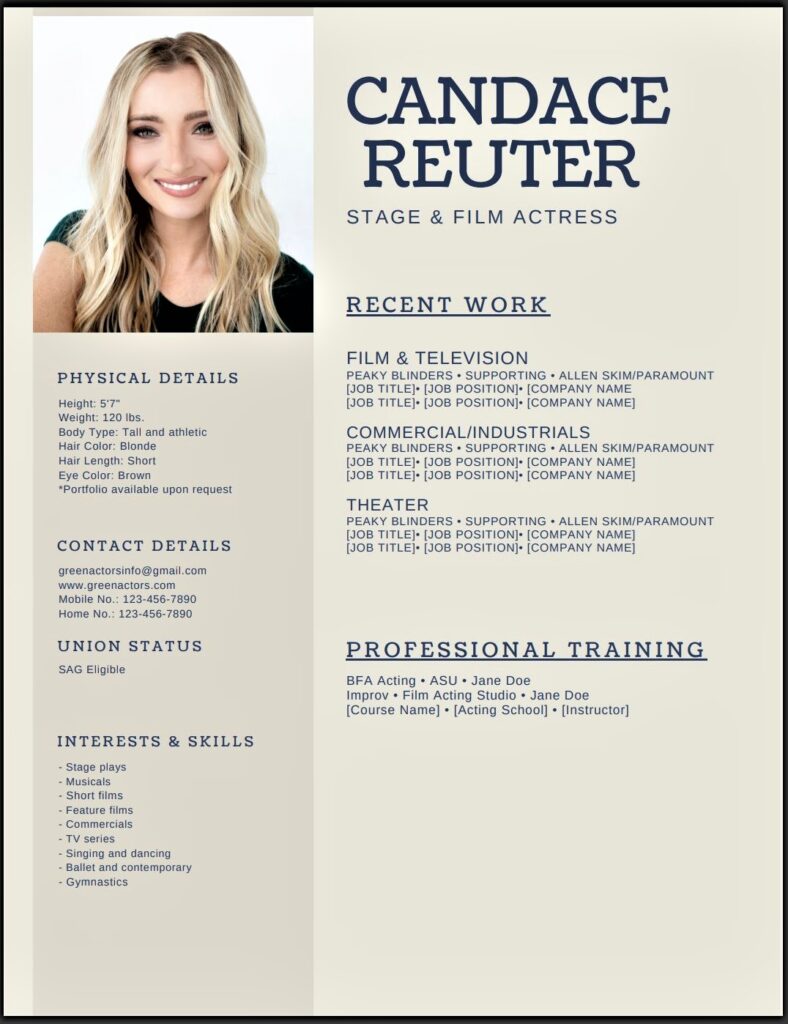 Thats a Wrap!
That's it for this week and the conclusion on Resumes and Templates! Be sure to check out my YouTube Channel for more visual Tips.
Until next week, Green Actors!
– The Green Actors Guild